If you have picked your wedding date, then congratulations, you are on the road to what could be the most beautiful day of your life.
Planning your big day may seem like a daunting task, but like any big undertaking, it's best to break the planning process into smaller more manageable pieces.
A big part of the planning process is understanding exactly WHEN everything needs to happen. An organized schedule will help you get closer to ensuring your special day is carefree, and more importantly, making sure you maintain your sanity on the way there.
You're likely reading to find out when you should book your wedding DJ, so here it is; you should ideally book your wedding DJ approximately 9-12 months before your wedding date.
No this is not an arbitrary number of months, keep reading to find out why this extra time makes sense for most couples searching for the best wedding DJ.
The Best Wedding DJs Book Fast
The best options always book fast. Sure there are plenty of options available, but if you want the top options your city has to offer, you need to move quickly. A great wedding DJ can make your special night even more memorable. You can rest assured that the most impactful DJs will be claimed early and often.
With a majority of weddings restricted to only a couple days per week, there are plenty of other couples getting married in your city, sharing the same wedding date as you. It's highly likely these couples are also on a quest for the best entertainment options as well.
Sharing a wedding anniversary with someone in your city is unavoidable… but throwing a better party than them on your wedding date is completely in your control if you book early!
Show Me Sound has booked as early as two years in advance for some wedding dates. Make sure you don't have to compromise on your first choice of entertainment for what is likely to be the most important day of your life.
Communicate With Your DJ
Booking early allows plenty of time to communicate with your DJ and plan the specifics of the wedding. A good DJ should be in communication with you throughout your planning process and available for questions as your plans develop.
More often than not, your DJ will also act as the emcee for the evening, which means not only will a talented entertainer know your itinerary well, they will also help you plan with their reference experience.
DJs have seen a TON of weddings, and will likely have their own opinions on what goes over well and what doesn't. When you leave enough time for communication with your DJ before the big day, you also leave enough time to pick their brain when planning the rest of your evening.
Should we cut the cake before or after dinner?
In what order should we have our speeches take place?
What time should we do our bouquet toss?
An experienced DJ can help you plan all of that and more.
Not only can a good DJ help with the planning of your evening, but they can also recommend other vendors. If you're still looking for the best photographers, videographers, florists, photo booth operators, etc – do not be afraid to ask your DJ who they've enjoyed working with.
Being one of the best weddings DJ companies in St. Louis, Show Me Sound has had the opportunity to work with some of the best vendors the area has to offer – please ask us for recommendations if you need help recruiting the rest of your wedding help!
Let's face it, many questions will come up while you're planning your timeline. If you have a skilled DJ already hired for your wedding team, they will be available for questions and can make all of this planning so much easier.
Shop For The Best DJ Options
Give yourself time to shop for the best DJ option for your wedding.
Regardless of skill level, not every DJ is going to be the best fit for every couple. You must connect with your DJ, as this individual is responsible for the flow of your night.
When you give yourself more time, not only will you be able to interview multiple entertainment options, you also won't feel any unnecessary pressure to close a deal right away to avoid losing what might be your best option.
Asking your DJs the right questions before your wedding is crucial. Leaving enough time to do this will help you feel confident in your selection.
For most couples, it's their first time planning a wedding, which is why we put together a guide of 46 questions you should be asking your prospective wedding DJ.
You can download this guide for free here: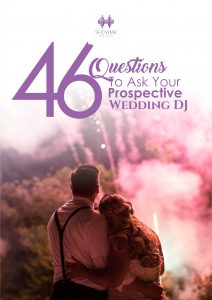 A limited timeframe doesn't give you the flexibility to vet your options properly. Start planning early to give yourself the time you need to make the best choice for your wedding.
Seal The Deal With Your DJ
Sign the contract and relax.
It's no secret that planning a wedding can be stressful.
We have to put a value on checking one more thing off your seemingly never-ending to-do list. The peace of mind that comes along with this is worth starting your search early, all by itself.
An experienced DJ will always include signed contracts when hired for your wedding, and this piece of paper allows you to relax knowing that the entertainment for your big day is taken care of.
Even if you feel like a few details of your day might change, most DJs will be flexible on adjusting contract specifics regarding the timeline or equipment needed when given enough advance notice.
Give yourself peace of mind. Get your top choice locked down with a signed contract.
Conclusion
Reluctance to book early can lead to major disappointment in the end. DJs booked in the eleventh hour have the potential to be an unfortunate compromise on the most important day of your life.
Your wedding is meant to be a celebration of your love, shared with the people you care about most. When your special day arrives you should be dancing to great music, making memories with family and friends, and not second-guessing a single thing. Booking your wedding DJ 9-12 months in advance will save you from unwanted hassle in the end, truly making your wedding day smooth and memorable.
Photo by Jess and Jenn Photography