Are you recently engaged and trying to deal with the pressure that comes with nailing the perfect wedding?
We are very aware you have tons of responsibilities to take care of before the big day, and of those responsibilities includes finding the right DJ!
'If music be the food of love, play on', says Shakespeare, and we quite agree.
On a day like your wedding, you deserve to have the perfect soundtrack. A good starting point interviewing your prospective DJs to ask them some important questions.
Luckily we've taken some of the work out of this process and outlined some of the most important questions to ask.
Here's how you can make sure you find the right person for the job.
1. Do you offer a written contract?
A written contract is an indication of credibility. If the DJ you have in mind offers one, they mean business and it will be one less thing to worry about.
A lot of couples plan their weddings a year in advance and a contract means that both parties are agreeing to the same terms and conditions, and adds an extra level of reassurance your entertainer will still be in business a year from now.
Wedding planning is a lot of work. Having a written contract in place will give you confidence that you've hired a professional, and you're both on the same page with all of the details for your wedding.
Every professional DJ will offer a written contract, no exceptions.
2. What is your experience level as a Wedding DJ?
You need to know how good the DJ is at their job before you make your decision.
Sometimes the price is an indicator of experience, but there are instances where "you get what you pay for" isn't always true.
If your prospective DJ only has nightclub experience, they may not know how to handle weddings properly.
They might be a great curator of music with great technique, but without wedding experience, they might fumble when more sophistication or elegance is required.
Make sure you ask your DJ not only how long they've been DJing, but how many WEDDINGS they've done.
Many experienced wedding DJs come with a higher price tag, but in the end, you typically get what you pay for.
3. Do you have backup equipment?
Think you found a bargain deal on a DJ? An effective backup solution is usually the first area to suffer from a smaller price tag because a good equipment backup plan takes twice the investment in equipment.
What happens if the computer malfunctions? What if the wireless microphone stops working?
You don't want to have any hiccups on your wedding day so it's important to ask the DJ if they have backup equipment in the unfortunate case of any technical malfunctions.
Remember, over time technology will fail, it's just a matter of when. If equipment failure happens on your special day, make sure your DJ has a backup plan.
An experienced DJ is usually preemptive about these things. They make sure that if the equipment stops working, the replacement is nearby and the show goes on!
Unforeseen circumstances can creep up but being prepared is key to avoid any large mishaps.
This extra level of security and peace of mind is worth every penny, make sure your DJ has a backup plan.
4. Do you take song requests?
When you select a DJ, part of their job is curating the perfect playlist, catered specifically for your wedding.
A good DJ should be able to find the perfect song for every part of the wedding, from your cocktail hour up until the last dance. They will be able to read the room and know what to play to entertain your guests.
However, this is YOUR day, you should have the option to give suggestions on the type of music that is added to the evening's playlist.
Ask your DJ if they are open to song requests. Do they charge extra for the music they don't currently have in their library, or do they include your song requests in their pricing?
Equally important, are they open to a do-not-play list?
If there is an artist that makes your skin crawl every time you hear their music, make sure your DJ is willing to avoid playing anything from that artist's collection.
Some DJs have set playlists and may be unwilling to budge, so asking them about how they work with music is necessary, especially if you have strong musical preferences.
This is your special day after all, and they should be using your taste in music to build a playlist catered specifically for you, not a cookie-cutter playlist they've used at every wedding for the past five years.
5. Do you provide emcee services?
Emceeing is an important part of the wedding. Without announcements, there is a high likelihood that your wedding timeline will be very unorganized.
In some rarer cases, a DJ will not provide these services. It is important to find this out earlier on, to make sure that your timeline stays on track, and you and your guests know what's happening at all times.
Of course, you may want a family member or a friend to make announcements instead of the DJ. If this is the case it may be worth asking the DJ if they are comfortable with this, as their workflow can get a bit more complicated with an external emcee.
Also, don't be afraid to ask the DJ about their emcee "style". Do they change their voice or tonality when making announcements? How frequently are they on the microphone? What are their talking points on the microphone?
Everyone has different preferences when it comes to mic work, so make sure your DJ aligns well with your expectations.
6. How current is your music collection?
Knowing about the DJ's personal style and how they curate music for weddings is crucial.
If you prefer having the latest music played, ask the DJ how current their collection is.
How do they stay on top of the newest releases? Are they subscribed to any record pools or music services?
Listening to 10-year-old songs may not be your cup of tea. If your DJ hasn't kept their library up to date, this could be an issue during your reception.
Of course, if you are a traditionalist when it comes to wedding music, the opposite applies.
Do they only have music released in the last few years?
Most professional wedding DJs will have a healthy balance of both, but don't hesitate to ask!
Communicate your expectations and check with the DJ to see what they will do to fulfill them.
7. How are you different from the competition?
When interviewing a DJ, a good way to get to know them is to ask about their strengths and how they're different from their competitors.
This is a great question to just ask and sit back and listen.
When you ask this question the DJ will typically give you an answer consisting of things that are important to them with their answer.
If they have similar priorities to you, this is a really good sign. If they emphasize points that aren't too important to you, this could be a red flag.
Conclusion
Hiring a wedding DJ can be an exhausting task. This is not an exhaustive list of questions to ask your DJ, but it's definitely a good way to start off your conversation.
Show Me Sound has put together a free eBook with 46 questions you can ask your prospective DJs, click here for more ammo you can use to find the best fit for your big day!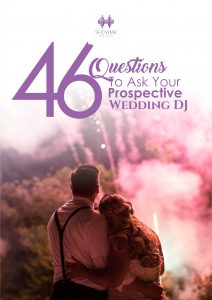 Photo by Emily Morter on Unsplash